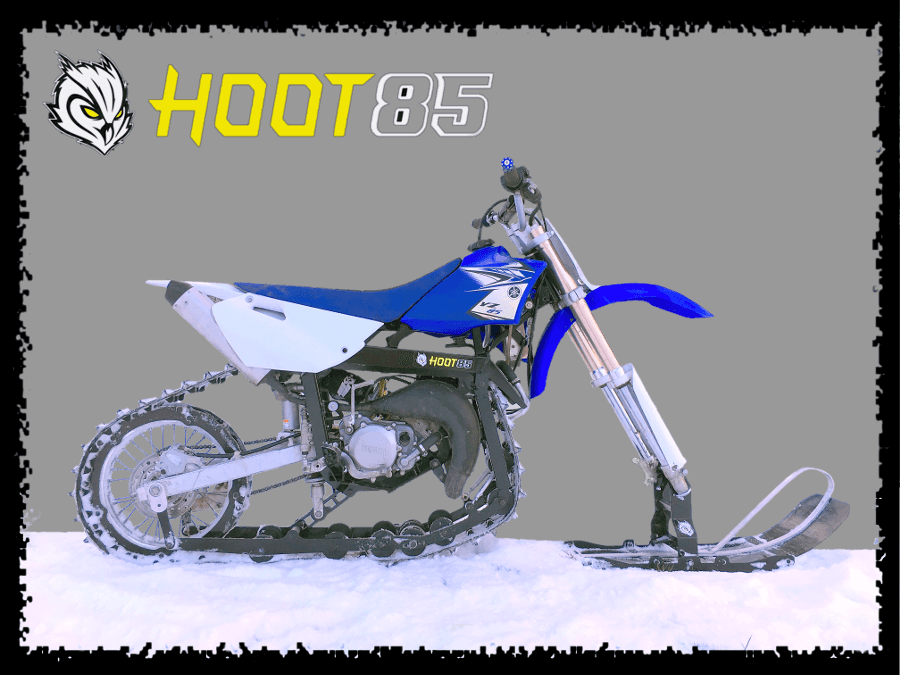 It's Here…
The Flat Land Snow Bike Kit!
SNOW, GRASS, DIRT, SAND, GRAVEL, MUD, ASPHALT! 
SNOW BIKE CONVERSION KIT FOR
THE YAMAHA YZ85. 
The HOOT85 kit includes everything you need to convert your Yamaha YZ85 into a snow bike. This one of a kind patented technology allows your Yamaha YZ85 to be driven year round in all types of terrain! Our system is low drag and efficiently transfers power to the ground. As a result, the acceleration and top speed with a track are similar to the stock motorcycle! In addition, the skid frame suspension provides safer performance. The track system makes it difficult for the motorcycle to slide or flip out from under the rider.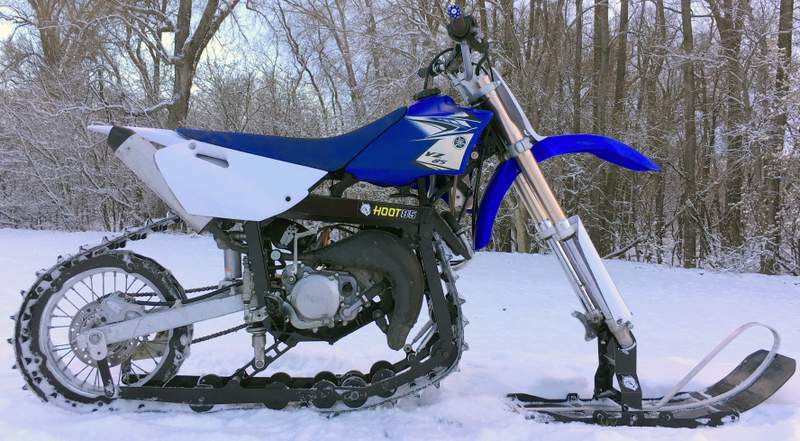 SEE IT IN ACTION.
 Click the video to see how the HOOT85 changes it up in the world of conversion kits. If you would like to see more videos, we have a number of videos showing off the HOOT85 on our videos page.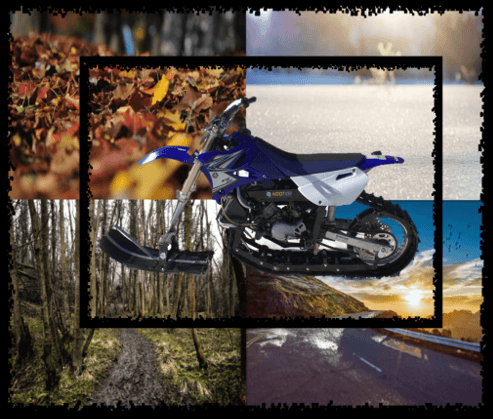 The HOOT85 snow bike only needs a few inches of snow for some serious WINTER time fun! When the stock front wheel is on the HOOT85 there is no need for snow. Therefore if you live in an area of the country that gets snow once in a while you can do a simple five-minute swap to switch from ski to wheel and back again to keep having fun no matter how the winter season is going! When it comes to SPRING use your bike to access dirt fields that have become fields of mud! Have no fear as the HOOT85 with the front wheel on will go through any type of mud.
While your friends with only a regular motorcycle are spinning and getting stuck you'll be there with a tow rope to help them out…of course only after giving them a nice roost! SUMMER time riding will give you the most acceleration you have ever felt from a YZ85 motorcycle. With the track instead of a rear tire, you will pull and pull with any twist of the throttle.
In the FALL the leaves might be changing and the weather may be unpredictable, but it is not the time to park your bike. You and your HOOT85 are on your way to another great year of riding!